News/Events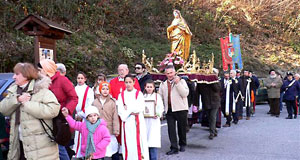 2007-11-18. Celebrations of St. Anastasia the Martyr in Monastero Lanzo village, 40 km north from Torino.
The cult of St. Anastasia is very ancient here: there are indications of it dated from X c. The celebrations are always held at the third Sunday of November when shepherds and their flock return from pastures. An important traditional feature of the holiday is 2 huge, decorated with numerous color bands pyramidal loaves of bread carried by 2 men on their heads. The loaves named "La Carità" (The Charity). After the mass ends they are cut into great number of pieces and handed round, accompanied with hymn-singing. There is a church of St. Anastasia in the village with pictorial representation of martyrdom of St. Anastasia and a sculpture that is carried out once a year for religious procession.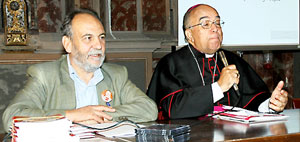 2007-09-22. The Conference «Pacificator Saint Anastasia The Martyr»
Mondovì, Cn, Italy. Italian committee "St. Anastasia" with municipality and eparchy of Mondov&igravel; organized the second conference (the first took place in Zadar on 2006 Oct. 11) . The main themes of the conference were: the initiative "St. Anastasia - the hope for peace", the image of St. Anastasia as a symbol of peacemaking and christian virtues, places of worship of St. Anastasia in Italy and all Europe.
More...

2007-09-21. Mondovì exhibition
Today, Sept. 21, the Mondovì exhibition was opened.
Photo report of the event...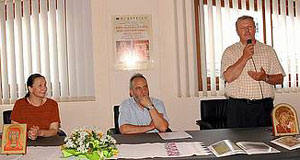 2007-06-16. Presentation of Dogliani 2005 "S. Anastasia"